Since 1999 Online Inventory Solutions Limited have been at the forefront of the provision of Inventory Services

The Reports we compile at the outset and termination of Tenancies are detailed, concise, well presented and easy to follow and tailored to leave no element of doubt.
Online Inventory Solutions provide an invaluable service to letting Agents and Landlords requiring a professional inventory inspection of their rented property.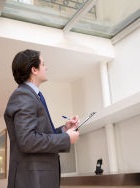 Our service is focused on London and the surrounding areas. We provide a short-notice, professional service aided by our unique Online Booking Management system; free to use for all our Clients. Our Inventories are fair and conducted from an independent viewpoint.
We have extensive experience in inventory management and a large team of Inventory Clerks available at short notice to visit your property.
A professional inventory ensures that both Landlords and Tenants have a clear understanding of the contents and condition of a property at the start and end of a Tenancy period. It can also prove invaluable in the event of dispute at the end of a Tenancy.